Hummus is a healthy, tasty, nutrient-rich Middle Eastern food that consists mainly of chickpeas, olive oil, tahini and lemon juice. Hummus easily sells for several dollars in the shops, but you can make a quick and easy dish in your own home for a fraction of the cost.
Start by Shelling the Chickpeas
Hummus requires cooked chickpeas as the main ingredient, as these will mash much easier than those that have not been cooked all the way. Canned chickpeas work just as well. The benefit of using canned chickpeas is that they are pre-cooked and do not require any further cooking.
Start off by shelling all the chickpeas so that all you are left with are creamy chickpeas, rather than a waxy outer coating, that needs to be removed once the chickpeas have been mashed or purced.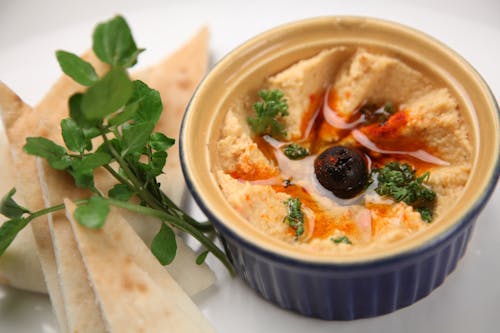 credit
Don't Hold Back on the Olive Oil
Olive oil helps give hummus its rich, creamy consistency. But if you add just a teaspoon, you will end up with a chickpea mash, rather than a smooth, creamy paste. Choose a good quality extra virgin olive oil and add it in stages as you go until you have just the right consistency.
Olive oil is packed full of monounsaturated and polyunsaturated fats ("good" fats) so do not hold back when making hummus, as you will not end up with the desired results unless you add plenty of olive oil.
Season According to Preference
Hummus has so many different variations that you can add or omit certain ingredients without affecting the authenticity of the dish too much. If you are a huge garlic fan, add plenty of garlic and mix it in well, or if you cannot imagine making hummus without a rich lemony taste, add liberal amounts of lemon to the chickpeas and other ingredients.
Or if you cannot stand the taste of tahini, there is no need to add it. The point is to season the hummus according to personal preference until you are satisfied with the end result.
Homemade hummus is delicious and economical. It can be served as a dip for chips, fresh pita, and in so many other ways that you will want to serve it again and again. Start off by shelling the chickpeas prior to mashing or pureeing them, adding enough olive oil to give the hummus its characteristic velvety smooth texture, and to season according to personal preference.