At first glance the idea of homemade bacon might seem intimidating, but the process is actually quite easy and safe-and not to mention delicious! Infact after you learn how to make homemade bacon, its probably actually healthier and safer than storebought because there are no artificial preservatives in it. Most store bought bacon is loaded with sodium nitrate to enhance the color, unfortunately it has also been associated with health problems ranging from high blood pressure to erectile dysfunction. Learning how to make homemade bacon will also be cheaper after you make a few batchs. Oh and most importantly, homemade bacon tastes better!
All you will need is salt, brown sugar, wood chips, a charcol grill and of course the pork. For the salt I recommend curing your homemade bacon with something of a larger grain size than table salt (although table salt will work fine). I personally use kosher salt or sea salt. For wood chips you can simply buy a bag of wood chips for smoking on a grill. I got several pounds of applewood chips at HyVee grocery store. Any hardwood should work, but I find oak and applewood best for bacon.
For the pork, you have two options. You can either buy a pork belly and slice it up yourself, or simply buy side pork which is already perfectly cut to be strips of bacon (infact it is basically uncured bacon). I strongly recommend using the pre-cut side pork for your first attempt at learning how to make homemade bacon. Start with one or two pounds for your first time.
If youre using side pork, leave the whole pound bunched together-that is to say you should have a slab of meat about one foot long, two inches wide and one inch thick, consisting of individual strips. If you are using a whole pork belly, it will be easier to cut it into strips after curing.
Rinse the pork slab in cool water and pat it dry. Keeping the bunch together, rub a liberal amount of salt onto the top and bottom of the slab. You may also add brown sugar to taste-dont be afraid to really add alot if you want a sweeter tasting bacon. Now set the slab on a wire rack above a pan and put it in the fridge.
As the homemade bacon cures, the salt will draw water out of the pork. There may or may not be some water which has dripped into the pan from the pork. Check your homemade bacon each day for 5 days, patting dry and applying more salt/sugar if needed. After 5 days the pork should feel somewhat dryer and stiffer and the color may have darkened some. It is now time to smoke your homemade bacon.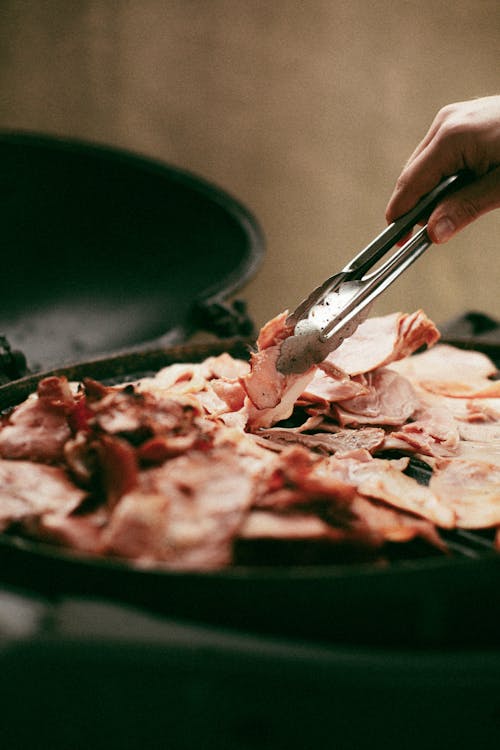 source
Place a large handful of woodchips in a bowl of water one hour prior to smoking. If you are using a charcoal grill, start a small charcoal fire and once the coals are ready drop some of the damp wood chips onto them. Place the homemade bacon as far as possible from the coals as you want to cold smoke (not hot smoke) the pork. Close the lid to retain as much smoke in the grill as possible. If you are using a gas grill, lightly wrap some of the wood chips in aluminum foil and place it directly above the flame (or in it if possible). Your homemade bacon will likely cook a little during this process, but dont allow it to cook to the level of crisp you like to eat bacon at. You want to save that until you are ready to cook it on the stove immediately before eating. I basically suggest smoking for up to an hour, but if youre using a small enough amount of charcoal, it probably wont last much longer anyway.
Once youre done smoking your bacon, its ready to be stored. Put it in an air-tight ziplock bag and leave it in the fridge until youre ready to eat it. It should last at least a month without spoiling, but Ive never been able to keep it around longer than that to see. Cook it just as you would cook storebought bacon. You can now sit back and enjoy your own homemade bacon.
Once youve had some practice with how to make homemade bacon, you can trying changing it. Crystalized maple sugar in place of brown sugar is delicious. Dont hesitate to add other herbs and spices to make a homemade bacon perfect for your own taste.
---
Originally posted on Mazima. Hive blog powered by ENGRAVE.